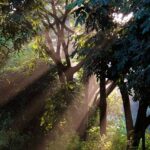 Forest Therapy: A New Approach to Visiting Pennsylvania Parks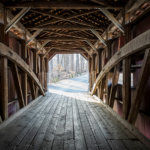 Under the Covered Bridge: Sightseeing the Wonders of Local PA Parks
A good playlist, a pack of tissues, and some yummy snacks. Sure, these are all essentials for dealing with a bad breakup, but they're also some of the best things to have with you on a long road trip. As the weather starts to warm, the sun sets later each day, and vacation time appears just in reach, you may be considering your next park-themed getaway, and the upcoming Good For PA Road Trip throughout the state will have an abundance of travel ideas and incredible stops.
Open road, windows down, and exploring all that nature has to offer can seem like an adventurous and free-spirited way to spend a trip, but it's important to plan ahead. Whether you're going solo or joined by family, friends, or backseat drivers, you 'll want a few tips on how to have a great time while keeping the crew safe. So fuel up (you and your car!) and get ready to road-trip in good style with the following essential tools.
1. Getting the Show (aka Your Car) On the Road
If you're taking a road trip, you're going to need a car – but there's a reason they don't call cars "a man's best friend." It's important to be ready for every and any variable that could bring your trip to a halt, and that includes making sure your car is ready for the trip. The extra prep could come in handy for anything from a dead battery to almost hitting Bigfoot with your car. The possibilities are endless. Trust us, you're going to want to have tools at your disposal.
The first things to do should happen before even setting your butt into the driver's seat. Your car has been recently inspected to ensure safe driving without a hitch. Check. You've got your driver's license, of course, and your car's registration on hand. Check, check. A flashlight, an extra tire, and extra gas. Check, check, check.
Finally, one of the most essential parts to any road trip is having roadside assistance as an available lifeline in case of emergencies. AAA is a staple for any religious car owner and roadtripper and could be the very thing that gets you out of a jam and back into the vacation fun. You may also have roadside assistance with your vehicle brand or auto insurance. Check, check, check, and check.
2. Planning for the Potty
Some of us may know from experience, but "going to the bathroom" on the side of the road is less than ideal, not to mention illegal. So, to avoid any misdemeanors and just plain uncomfy situations, potty-planning for a road trip should be one of the first orders of business. Along with your park, food, and tourist stops pinned and planned on your map, locate some of the rest stops you'll be driving by for those "just in case" moments, especially if you're traveling with children.
Some rest stops even feature special amenities and activities that could make a bathroom break worthwhile. From early spring to late fall, the New Stanton, Allentown, and Sideling Hill Service Plazas have outdoor farmer's markets with genuine Pennsylvania farm products. Don't miss the "Keystone Truck Stop and Restaurant" in Loretto for a potty break. The website, LoveFood.com, named it the best trucker stop restaurant in all of Pennsylvania last month. Still not satisfied? A quick visit to the PA turnpike's website gives you a detailed map of every rest stop along the turnpike and answers the very important question: Which have Starbucks and which do not?
3. Snacking á la Car
The good, the bad, and the healthy. While you've surely picked out some of the most delicious-looking fooderies and restaurant joints along your trip trail, sitting in the car for hours can work up an appetite. Your stomach might start gurgling, but you've got miles to go before the next eatery, and nobody wants to travel with a hangry passenger. Pack up a cooler or backpack with a wide range of easy and quick snacks – something for every mood you may be in. The easier to eat, the better. We don't want a driver fiddling with yogurt lids and unperforated packages while their eyes should be on the road.
Packageless snacks like apples could be ideal. No fuss and no trash. Other packaged snacks allow for chowing down with little mess. Sunflower seeds, trail mix, and shredded beef jerky are simple enough to throw back in quick handfuls. Be sure not to forget a reusable straw for any beverage. Twisting caps off and turning drinks up into your mouth could be a driver's worst nightmare, so pack wisely and snack away! The Pioneer Woman has some great ideas for road trip snacking.
4. Mapping Like Your Mom Did
Siri seems to be able to do everything. From changing its voice to British or Australian at your request to telling you exactly where to go on your GPS, it's become a steadfast tool for travel. But let's just say you're driving through secluded areas and forested roads, over bridges and through tunnels, and you lose service. How will you get to where you're going without that tried-and-true British Siri telling you which way to turn? Or say your phone dies while on a solo expedition and your portable charger is out of juice? Well, 1998 called, and they said paper maps are back in!Having a paper map of the state you're traveling through in your glove box is the ultimate road trip backup. Study your route before heading out and even trace it onto the paper map as a fun guide that even kids would love to follow along with. Sure, folding it back up could be one of life's biggest battles, but you'll be glad you have it in case of an emergency. PA maps should be available in almost every rest stop as well. If you don't have a chance to pick one up before the trip, you can purchase one during one of those treasured potty breaks we talked about earlier!
5. Shaking Your Good Thing
No fighting over who's got the aux! Much like having ready-to-go snacks, music should be prepared before the big trip to avoid any conflict. Flipping through mixes to find just the right song can be dangerously distracting, and arguments over who gets to decide can put a damper on the trip. Creating a playlist specifically for your trip can be a perfect way to not only groove to some great tunes but also keep your eyes on the road and give everyone what they want.
Apps like Spotify have tools to share playlist creation between multiple accounts so everyone gets a say. Too overwhelmed about what to pick? Let the apps do it for you! Spotify has a variety of road trip-themed playlists just waiting to be listened to. Not into apps? Try going the old-school route. If you're lucky enough to own a car with a working CD player, create a playlist on a CD – or stop at a random flea market on your trip and buy a few. Road trip songs should be upbeat and fun. Do it in Griswold family vacation-style and add Lindsey Buckingham's "Holiday Road"!
The journey is half the fun!
Whether you're a seasoned road tripper and all of this sounds like old news, or you're a newbie just dipping your foot into the road-trip lifestyle, it's always good to be reminded of what to bring and how to prepare. Road trips are only fun when you aren't worried about what could happen at every next turn. Consider these essentials and road-trip with ease.
If you're looking for a road-trip guide this spring, be sure to look out for Good For PA's PA Park Road Trip – a fun look at local park spots throughout PA, including the best routes to take, the yummiest restaurants to eat at along the way, and some of the coolest things to see on the road. Happy road-tripping!