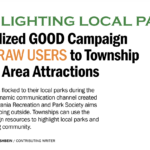 Revitalized GOOD Campaign Can DRAW USERS to Township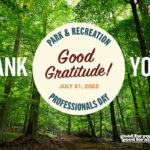 PA Park and Recreation Professionals Day. A Grateful Success!
Going to the park, the playground, or any recreation center as a non-disabled individual is not a complicated task. In fact, besides what sneakers you're going to wear and what time your yoga class starts, there are not many factors that you need to think about. People with disabilities often have much more to consider when leaving the house and heading to a park. Will this park have accessible toilets and parking? Will a wheelchair user have accessible walkways and ramps? While the Americans with Disabilities Act gave a legal mandate for parks and recreation departments to serve people with a disability, highlighting and bringing visibility to the local spots that work to incorporate inclusivity is still integral.
With July being Disability Pride Month, it's a perfect opportunity to show you how Pennsylvania's local parks and recreation centers are working to create access for those with disabilities.
How Can a Park Be More Accessible?
Sure, a wheelchair ramp is one way a park can transform their space to be more inclusive, but what else? There are many easy changes local parks and recreation centers can make, and have made recently, to be more accessible and welcoming.
Trails can often be a hazard for those who have disabilities that affect their mobility. With bumpy roads, blocked pathways, and inclines that solely use steps, trails can be difficult. By incorporating flattened, smoothed paths and inclines, people with disabilities can not only hike, but also have access to areas where they can do other activities like fish and camp.
For those who have visual disabilities, informative and important park signage can be difficult, or even impossible, to read when little is done to make the signage inclusive. This can even lead to dangerous or confusing situations. By developing nature signs and safety information that include Braille, those who have visual disabilities can be invited to learn and know what to look out for.
When it comes to communicating within park spaces and recreation centers, those who have hearing impairments and speak American Sign Language (ASL), may feel excluded. Recreation centers and various park programs and initiatives can work on incorporating ASL into their classes and events, or even offer the same classes or programs, but in ASL. Everyone should have the opportunity to learn, explore the outdoors, and experience fun nature or sport-based activities!
Adventure onto multiple accessible trails in the Lackawanna Heritage Valley in Scranton, PA. They allow the usage of other power-driven mobility devices (OPMDs) to increase recreational opportunities for everyone. The Lackawanna River Heritage Trail stretches between Pittston and Simpson and runs along a plethora of industrial local history, including the D&H Rail Trail, so you'll fit in a history lesson while enjoying the sounds and sights of nature! A quick search shows that multiple sections of the trail feature miles of paved segments for easy access. The best part? They have various accessible parking lots, parking spaces, and entryways onto the trail. The Lackawanna River Trail guidebook features section-by-section maps and other important information.
Looking to do more than meander on the trail? The Lackawanna Heritage Valley Authority (LHVA), free of charge, rents out accessible bike equipment through reservations. And how about buddying up? LHVA, in partnership with I AM developed the Bike Buddy Program, which pairs riders with helpful volunteers who can assist in setting up adaptive cycling equipment and navigating the trails.
Adaptive playgrounds are incredible tools for children of all abilities to explore, have fun, use their imagination, and meet friends, all while staying safe. Horsham's own Everybody's Playground in Lukens Park was built with a mission. Create a fully accessible and inclusive play space for all children, no matter their physical or mental capabilities. Featuring wide pathways and ramps, tunnels, and a water mist station, there is endless inclusive fun waiting to be had at Everybody's Playground. Not to mention, tall umbrella-like canopies covering the grounds, delivering shade from the hot summer sun so kids can play it cool, all day.
It is one of the largest all-accessible playgrounds in the state and features two separate sections: adventure area and family area (built for different types of play). The recreational space even features a basketball court with removable basket rims, meaning anyone and everyone can shoot some hoops!
Pennsylvania Center for Adapted Sports
Located in Philadelphia, on the picturesque Boathouse Row, The PA Center for Adapted Sports is a recreational center/program featuring 13 different sports and wellness programs that are meant to build an inclusive community and help athletic activities become more accessible. With an incredible array of activities, including birding, climbing, kayaking and yoga, there is no limit to what you can accomplish. How about sitting volleyball? Or maybe indoor rowing?
The PA Center for Adapted Sports works to incorporate adapted equipment in each of their sports that allow for more inclusion. Birding classes are mindful of choosing smooth and paved natural areas to explore, climbing features harnesses that are easy for those with amputations or limited strength to use, and so much more! The center even offers a few virtual programs for at-home exercise.
Discover and Embrace Accessible Parks and Recreation!
Looking for an accessible park near you? There are an abundance of spots that offer accessible playgrounds (here), trails (here), and even kayaking and fishing areas! (here)– not to mention, a huge assortment of inclusive recreational centers and programs. And you can always check the Park Locator on www.goodforpa.com to find local parks nearest to you. Bringing about visibility and shining a light on the locations in Pennsylvania that are working towards complete inclusivity means building a stronger community. It means that everyone gets to experience the beauty of nature and the fun of the great outdoors.