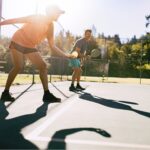 Dink Responsibly: Learning the Pickleball Basics
Stories (in PA Parks) to Tell in the Dark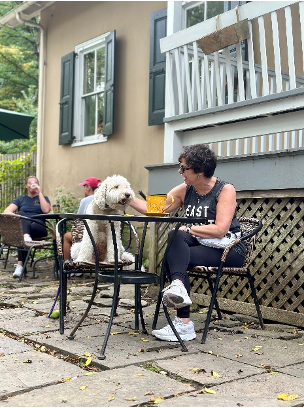 If my dog isn't invited, I probably don't want to go. I'm Rachel from Philadelphia and my Road Trip to Valley Green and Chestnut Hill opened my eyes to a world of dog-friendly fun. And it was such a glorious time to be out and about with my best bud, with all of the storefronts decorated for fall in bold orange, green, red and yellow.
Check out some of the places Harper (named for Phillies phenom Bryce Harper) and I went.
First Stop: Valley Green
Valley Green, which is also known as The Wissahickon, is part of Philadelphia's Fairmount Park, the largest landscaped urban park in the world.
We entered on Northwestern Avenue, right off of Germantown Avenue, the main road that runs through Chestnut Hill. There's plenty of street parking, but you have to watch out for kids and dogs.
Our first stop was The Cedars House, a quaint snack shop at the beginning of Forbidden Drive, the seven-mile gravel and dirt path through the park. Cedars House has a dog bowl out and Harper got a quick drink for our walk.
If you like history, Forbidden Drive has an interesting one. More than 10,000 park enthusiasts and equestrians rallied in the 1920s against a proposed road in the park. After they won, the "road" was nicknamed Forbidden drive, because motorized vehicles were forbidden on it.
Forbidden Drive winds through the park alongside a creek and past the scenic Thomas Mill Covered Bridge. For hikers and cyclists who prefer rougher terrain, there are numerous trails that shoot off of the drive.
There were so many other dogs to meet and greet on our walk that we didn't get as far as I'd hoped.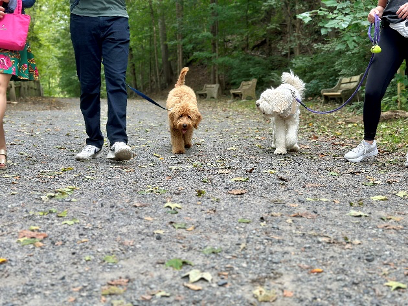 Next time, I'm hoping to walk the 2.5 miles to the Valley Green Inn, to feed the ducks and geese in the creek. My mother used to take me there when I was child.
I love to hike AND I love to shop and eat just as much. After Harper took a load off from her exercise we headed back out Germantown Avenue, took a right and drove less than a mile to the shops and restaurants of Chestnut Hill. We parked in a metered spot on the street, but there are lots of outdoor parking lots available.
Chestnut Hill may technically be in the Northwest corner of Philadelphia, but it looks like a quaint village in the middle of Europe with its cobblestone street and little shops.
Harper and I shopped til we dropped. Luckily there were plenty of places for us to take in sustenance on our shopping spree.
Time to Shop: Chestnut Hill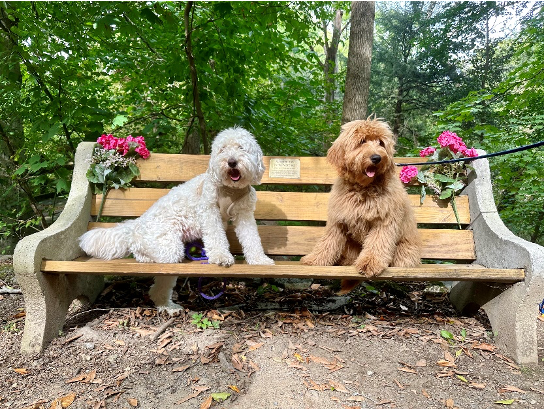 Our first stop was Chestnut Hill Coffee an independent coffee shop that welcomes dogs. I got a delicious skim chai and Harper enjoyed one the first of many treats she was offered in the shops of Chestnut Hill. Right next door, The Little Gallery seems to think more highly of dogs than people. They have the coolest vintage posters and objects.
With our tummies full, Harper and I started down Germantown Avenue, known as "the Hill" to locals. We walked down one side of the hill and back up the other.
If you're looking for a chain store, you're unlikely to find it in Chestnut Hill. Most of the shops and restaurants are independently owned, like Palladio, our next stop. This art and framing shop creates custom maps which highlight your home and your hometown. I love the idea of giving a friend one of their maps for a housewarming gift.
A few steps away was Killian's Hardware. Founded in 1913, it's the oldest hardware store in Philadelphia. The aisles are tiny because there is so much to see. And it's not all hardware. Who has ever heard of a hardware store that sells honey?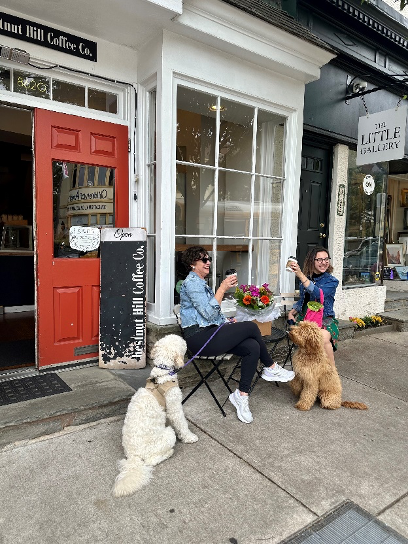 In the next block, we wandered into Artisans on the Avenue. This boutique was opened more 20 years ago by two local women to showcase jewelry, clothing and house goods from small U.S. designers, including many from the Philadelphia area. Part of their mission and the mission of the next place we visited is to make art affordable.
Further down the hill, Moondance Farm Studios showcases an eclectic mix of one-of-a-kind art, home décor and gifts from local artists. I fell in love with a ceramic tea cup painted in swirls of purple, peach and green.
Across the street, we entered one of Philadelphia's more long-standing craft stores: Windfall Gallery. Windfall will turn 40 next year! It artisan's goods from across the country, including fabulous jewelry, clothing, folks art, glass ornaments and scarves. I could find gifts for most of the people on my holiday gift list.
As we walked back up the hill, I needed nourishment and Harper needed some water. The Market on the Fareway, Chestnut Hill's Farmer's Market, seemed like just the ticket. I was worried I wouldn't be able to take Harper in with me, but they had an outdoor seating area with a heat lamps, family style tables, and waitress service.
There were even clips available if you want to leave your dog outside for a minute to go in to purchase from one of the vendors. I picked up a giant Chicken Pot Pie from Neidermyers (poultry) to take home for dinner! Who wants to cook after a day of hiking and shopping?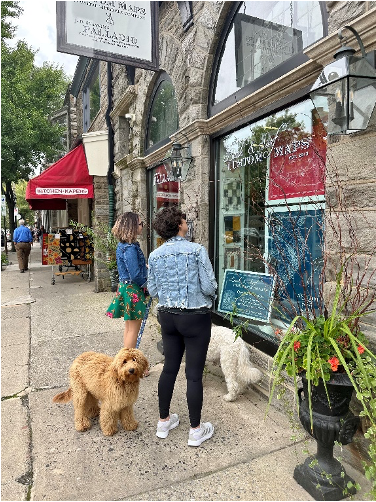 I live an easy drive from the Wissahickon and Chestnut Hill, but folks traveling further will find dog-friendly lodging at The Chestnut Hill Hotel. This historic boutique hotel was built in 1894. The site was previously an Inn, which morphed into a speakeasy, and according to local rumors, a bordello, during Prohibition. The hotel is home to The Chestnut Grille (dogs are welcome in the outdoor eating area) and serves as the anchor for the farmer's market.
What's lunch without dessert? It was hard to pick which sweet to indulge in at Zipf's Candies, which is located down a tiny alleyway off of Germantown Avenue, alongside other shops and a lovely sitting area. Opened in 1905 by German immigrants, the shop is run by the fourth generation of family members. I have a soft spot for stores like this, which make their own chocolates and sell so many of the older candies I grew up on. I walked out with a bag of Red Hot Dollars for me and black licorice to take home to my husband.
On a little bit of a sugar high, we made our way back up the hill, during which Harper received way too many treats from friendly shop owners. Our first stop: Robertsons Flowers, a regular winner at Philadelphia's famed Flower Show. It's hard not to love a store that smells like fresh flowers, but Robertson's is far more than a florist. Opened almost 100 years ago, this large corner store is packed with home goods – placemats, bowls, baby gifts, vases, and décor "objets." I picked up a stunning floral fruit bowl for my son and his girlfriend for their new apartment, and a big bouquet of colorful flowers for my kitchen.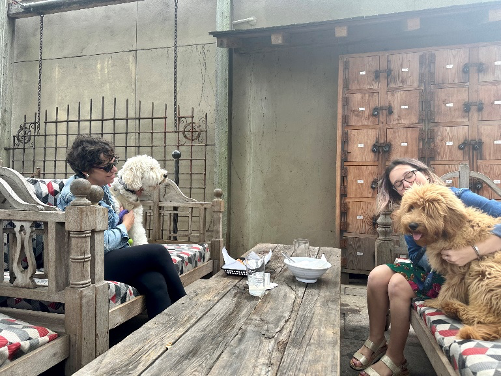 One of the newest shops on The Hill was one of my favorites: booked. I love to browse in independent bookstores, particularly at the cookbooks and the new fiction. As a woman business owner, I particularly like to support other woman-owned businesses like booked. This store fills a hole in Chestnut Hill, which was home to a huge Barnes & Noble for many years, and has been without a book shop since, since B&N closes there in 2014.
Now it was Harper's turn, as we visited The Bone Appetite. Everything you could ever need for your dog was there, but the highlight of the store was the knowledgeable manager, who needed Harper to try all of their new treats. Of course, we walked out with a new toy for my faithful companion.
I was getting tired, and we were almost to our car, but I couldn't resist two more stops: Occasionette and Quelque Chose. Occassionette is a quaint housewares store that smells like candles and sells the quirkiest greeting cards I've ever seen. Locally owned, Occassionette hosts Open Call, a simple way for independent artists and producers to present their wares to the store's buyers. Each year, half of the store's Open Call buying budget is reserved to BIPOC-owned businesses.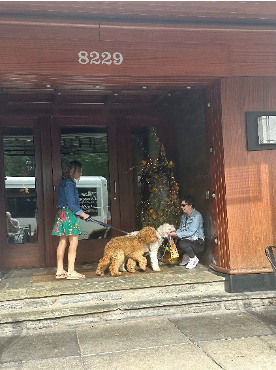 Our final stop was Quelque Chose, with its bright, fun collection of women's wear, accessories and house products. Chestnut Hill has long been considered the preppy headquarters of Philadelphia, and Quelque Chose makes sure all those prepsters have the newest Lilly Pulitzer styles and eye-catching and colorful acrylic monogrammed necklaces to accessorize them.
Philadelphia is known as "a city of neighborhoods." Although it is the sixth largest city in the United States, Valley and Green and Chestnut Hill – about 12 miles Northwest of downtown — make Philly feel like a small village. If you're going to visit, I encourage you to go soon while the leaves are still changing and everything is decorated for fall. If you have to wait, Forbidden Drive is relatively flat, so it's walkable year-round, and Chestnut Hill hosts Stag & Doe shopping nights each Wednesday evening from Thanksgiving to Christmas.